Tilting holding furnace for melt Al alloys
FA7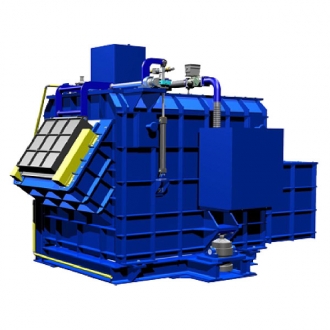 Characteristics
Gas holding furnace, capacity 3000 kg of melt Al alloys.
Designed for quick changes to speed up the emptying of liquid alloy, for frequent Al alloys change, has a exit neck with discharge axis coaxial with the pins pulled to shift for maximum accuracy of the operation of the liquid metal transfer.
The advance management of the combustion plant is based on automatic and continuous adjustment of the temperature of the liquid aluminium integrate with the submerged thermocouple in the liquid bath, that ensures high yield, maintaining stable around on the set point set the temperature of the cast alloy in the external bowl. The wide front door automatic opening facilitates the loading operation, drossing off and cleanliness.

Both hydraulic cylinders how lifting and tilt the furnace, and opening the door, have locking valves to prevent falls in the event of breakage of hydraulic circuit hoses.
Tank capacity
3000 Kg molten aluminium
Melting capacity
~300 Kg / h
Max bath temperature
800 °C
Max refractory temperature
1000 °C
Combustible gas
Natural Gas - GPL on demand / Press. min. 100 mbar
Number of burners
1
Max rating
300.000 KCal/h
Max consumption
35 m3 / h (Natural Gas)
Consumo specifico
~100 m3 / Ton (Gas naturale)
Installed power management
from 0 to 100% with limit of maximum
Power supply
Three-phase, 380 V / 50 Hz
Auxiliary services
24 V C.C. / C.A. - 110 V C.A. (Left out UV probes, working at 220 V A.C.)

Continued and automatic control of molten aluminium temperature, by thermoregulator with thermocouple in the bath

Thermo-limit of refractory temperature by thermoregulator not visualized and thermocouple in the wall
---