Characteristics
It is a furnace with a dry sole used to melt aluminium and its alloys. Inside it is divided in two chambers: one to melt and the other to keep and hold molten metal at tapping temperature. In the melting chamber, necessary heat is given by two methane burners placed on the vault, that produce two short tapered flames, that are the best compromise between melting efficiency and metallurgic fineness. In the holding chamber, necessary heat is given by a methane burner placed on the vault, that produces a flat flame, that touches the roof and the walls. By thermal radiation, heat reaches molten bath, keeping it at the right temperature.
The ingots charging in the melting chamber is effected by an opening made in melting chamber,
equipped with door with a mechanic-hydraulic movement and pneumatic closing; separately a charging unit, suitably studied, is furnishable, that puts the ingots on the sole of melting chamber. The picking of molten metal from holding chamber is made from the right tapping spout by furnace balancing. The tapping spout is separated from heating chamber by a siphon, that allows to stop drosses in the heating zone, keeping clean the metal, that is spilled in the ladle. It is also present another manual door in the holding chamber for refractory cleaning.

Tecnical Characteristics
Furnace capacity
2500 Kg molten aluminium
Melting capacity
~800 Kg / h.
Bath max temperature
800 °C
Refractory max temperature
1000 °C
Combustible gas
Natural gas
Number of burners
3
Burners' melting chamber
tapered flame (n.2) max rating 700.000 KCal/h
Burners' holding chamber
flat flame (n.1) max rating 220.000 KCal/h
Max rating
300.000 KCal/h
Max consumption
35 m3/hour (Natural Gas)
Installed power management
From 0 to 100% with limit of maximum
Power supply
Three-phase, 380 V/50 Hz
Auxiliary services
24 V C.C./A.C. (Left out starting trasformers and UV probes, working at 220 V A.C.)
Gas pressure feeding
from 0.3 to 1 bar
Max consumption
110 Nm3/h
Weight
40.000 Kg
Melting loss: depending on kind of charge; standard conditions (30% casting, 70% ingots), values between 1.5

and 2.2% max.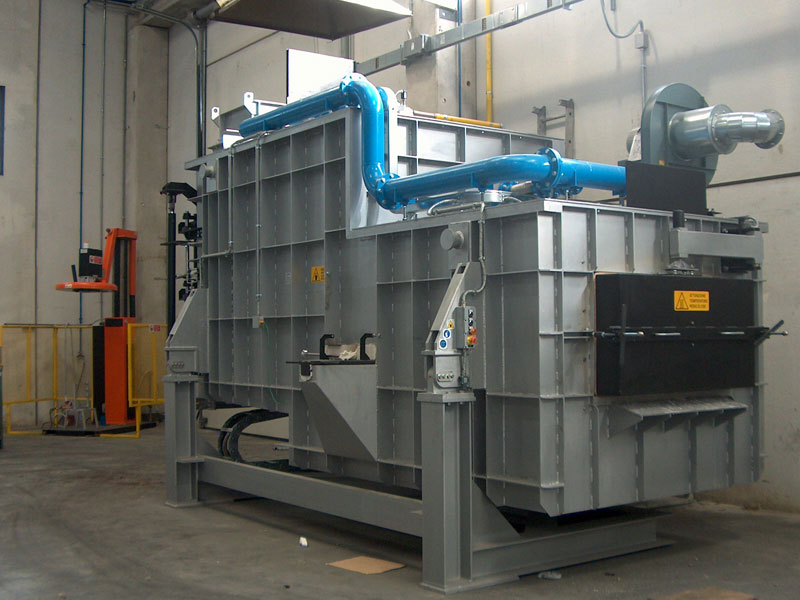 ---