Degassing/Refining plant
MCDC2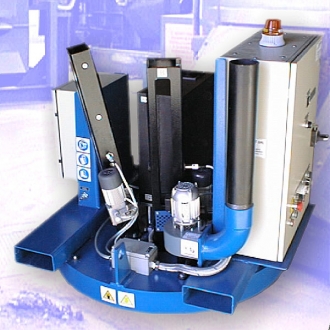 Characteristics
This machine was created for the foundries that have the necessity, in addition to the traditional degassing with an inert gas, of special and sophisticated treatments of the alloy, made possible by the wide variety of products available in the special pre-measured dose capsules.
The plant uses a disperser (lance and right rotor) that rotating at high speed, injects, in homogenous way, inert gas in the molten alloy.
The high rating of removing pollutants and not desiderated particles as gas H2 dissolved, intermetallic segregations, mixed oxides of Al2O3 and SiO2, SiC, comes from the minimal dimensions of used gas bubbles.

The refining is realized by introduction, in molten alloy, of particular pre-loaded capsules containing flux necessary for customer request.
These capsules are of aluminium, hermetically sealed, can contain salts, refining substances, sodium or mix of different elements for every metallurgic requirement.
This is the peculiarity of this plant: using right expedients during lance building and a complex program rotation management, it can sink the capsule on the bottom of landle, before the aluminium can melts itself and disperses its contained homogenously and rationally in the low/central zone of bath.
The immediate and homogenous dispersion of contained elements is realized with great efficiency by centrifugal force generated by lance rotation.
All the process parameters, as quantity and kind of capsules, times and rotation speed are completely programmable; you have 99 working programs so to process different alloys and to work in different conditions.
Other Features
Cycle programming work is done on an operator panel connected (with military type connector) cable to the machine. Work program are still in the machine and can be used with or without the connection of operator panel.
The advantages of this system can be translated into:
High flexibility, due to the possibility of dosing different products, distributed in the form of capsules easily identifiableand manageable.
Elimination of problems related to the diffusion of salts coaxially to the lance, as the merger of these that hopelessly clogged the lance, for the same reason you can use chemicals products with low melting point, which have an immediate dissemination to domestic league.
Handling and storage of the same, as pre-packaged in sealed containers do not require special attention, are easy and economical to handle and store.
Mechanic characteristics
Plate vertical spees
100-700 giri/min
Plate diameter
1000 mm
Dimensions and weight
Length
1010 mm
Width
1060 mm
Height (left out lance)
903 mm
Weight
280 Kg
Electric characteristics
Supply voltage
V. 400 + 50 Hz
Nominal current in the board
A. 4.5
Protection degree
IP 55
---